R. Seth Williams '89 was officially presented with the 2011 Alumni Fellow award at University Park on October 5. Williams has served as the district attorney of the City of Philadelphia since 2010. Elected in 2009 with more than 75 percent of the vote, he is the first African American district attorney in both the city of Philadelphia and the Commonwealth of Pennsylvania.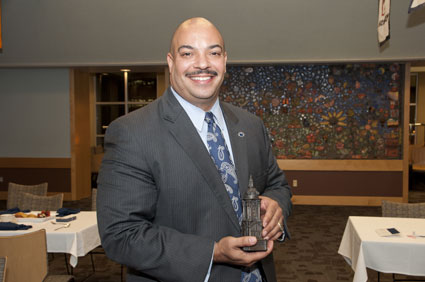 The Philadelphia District Attorney's Office, overseen by Williams, is the largest prosecutor's office in Pennsylvania and one of the largest in the country. It employs 600 lawyers, detectives, and support staff and is responsible for the prosecution of more than 75,000 criminal cases annually.
Prior to becoming district attorney, Williams served as an assistant district attorney for 10 years, including serving as chief of the repeat offenders unit. In 2005, Williams was appointed inspector general of the City of Philadelphia and was responsible for the investigation into all municipal corruption. He left that position in 2008 to serve as counsel for the law firm of Stradley, Ronon, Stevens & Young before running for district attorney.
In addition to his DA duties, Williams is an adjunct professor at Villanova and Temple law schools, and at Penn State Abington, where he also serves on the campus' advisory board. Williams is a major in the Judge Advocate General Corps of the U.S. Army Reserve and sits on several Philadelphia-area boards.
At Penn State, Williams was the president of the Black Caucus and the Undergraduate Student Government. In addition to his Penn State degree, Williams also holds a juris doctorate from Georgetown University. Williams lives in West Philadelphia with his wife, Sonita, and three daughters: Alyssia, Taylor, and Hope.