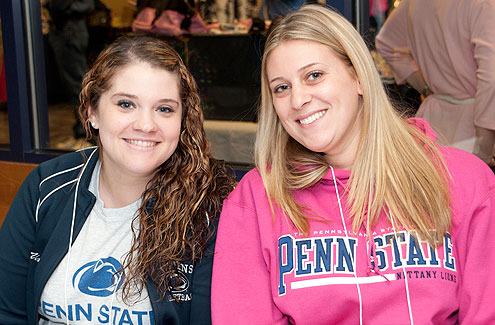 Come back to Penn State Abington (just for fun)!

---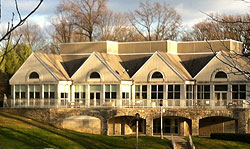 Take a walk down memory lane
All day
Lares Building
On display will be some of your favorite times captured in photos, yearbooks, newsletters, etc.  Don't forget your alumni goody bag!
Food Festival: A Taste of Our Community
noon

Sutherland Plaza
The culinary world in Greater Philadelphia is very diverse indeed. Experience what Philadelphia has to offer and join us for this first-time ever food festival on campus. Try all the gastronomic pleasures, and then vote for your "Best Of." Participating restaurants include Lee's Hoagie House, Buffalo Wild Wings, Bravo, and so many more. This is a can't-miss event for your taste buds!
---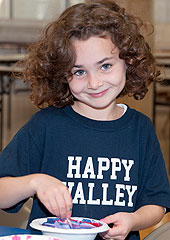 Children's Activities
1pm - 4pm

Duck Pond
Fun for the little ones! Enjoy face painting, our favorite clowns, pictures with the Nittany Lion, moon bouncing, and the fantastic Live Balloons Party Entertainment, brought to you by alumnus Eric Weinstein '97... and much more!
Coffee with the Coaches and New Athletic Director
11am

108 Lares
Interested in learning what Penn State Abington athletics is all about? Meet our coaches and new athletic director and learn more about what it means to be a student-athlete at Abington. Reflect back on your days as a student-athlete and check out the various historical sports items on display. Kids can also experience life as an athlete with fun games to play. Coffee and snacks will be provided.
---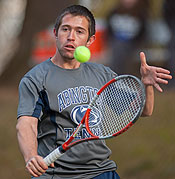 NCAA Div III Men's and women's tennis

11am

Tennis courts
Penn State Abington vs Penn State Berks

Meet and Greet the Chancellor and Associate Dean
1pm
Solarium, Sutherland Building Penn State Abington
Dr. Karen Wiley Sandler, chancellor of Penn State Abington, and Associate Dean Dr. Norah Shultz, will provide important updates and happenings on the campus including the state of the college, facilities and new degrees heading our way! A helpful Q&A session will follow Dr. Sandler's presentation.
---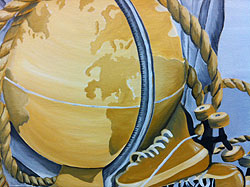 All Day: Bertha Lear Art Exhibit
Woodland Building
Enjoy student artwork created in Abington's art studios at an exhibition that honors the memory of artist Bertha Lear.
Prizes are awarded for best work in various media categories, including The Bertha Lear Purchase Award for Best in Show which earns a spot in Penn State Abington's permanent art collection.
Alumni vs current student soccer game
noon

Intramural fields
Summon your Penn State pride this alumni weekend to support student athletics! All former athletes, current athletes, and Penn State sports fans are invited to the Alumni vs. Student soccer game. See who takes home the bragging rights! 'Ballpark food'— hotdogs, snacks, soft drinks, etc.—will be sold on the field.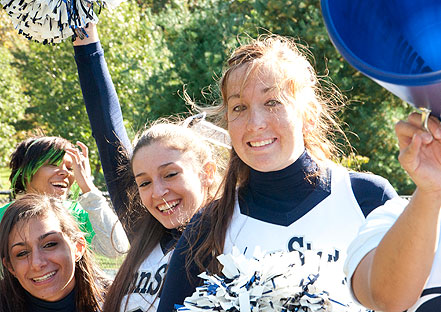 The Amazing Abington Race!
1pm
Outdoor Amphitheater, Fee:  $5 per person
Form an alliance and fan out across campus to complete a secret mission! We provide a handheld GPS and guidance from experienced geocachers. Newbies and veteran geocachers will find enjoy the challenge!
Robotics Presentation
1pm
Woodland Lobby
Learn how robots are used in all industries, including in the classroom, to encourage hands-on learning.
Ice Cream and Chocolate Tasting
1pm
Woodland Lobby
Who doesn't love ice cream or chocolate? Treat yourself at our tasting in the Woodland Lobby, and learn a little bit about how each of these popular indulgences is created.
Engineering of Pretzels
1pm. 2pm, 3pm, 4pm
Woodland Cafe
Ever wonder how a pretzel goes from a ball of dough to a salty knot? Stop by the Woodland Cafe to learn all about how pretzels develop their unique shape, and sample the many different forms of a "pretzel". Presented by alumnus Joseph Zaleski '84, president of Reading Bakery Systems (www.readingbakery.com).
---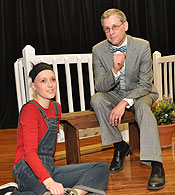 Spring Theatre Showcase: To Kill a Mockingbird
8pm
Sutherland Auditorium, fee:  $5 per person
Set in Alabama during The Great Depression, "To Kill a Mockingbird" follows the journey of Jem and Scout Finch, whose father has been appointed to defend Tom Robinson, a black man framed for a crime he didn't commit.
Join us as our theater students showcase a performance that will leave you breathless!
---

Entry fee: $10 for adults, $5 for children under the age of 12 (Lunch and some activities additional, please see prices above.)