Tactical strategies for professionals who focus on diversity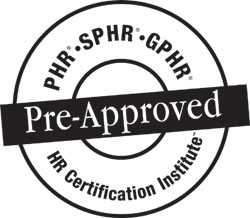 Most executives would agree that diversity and inclusion initiatives are good for a company's brand.  The challenge has been how to make a solid business case for diversity.  Businesses can no longer view diversity management as an expense, but rather as a strategic investment in the future. This seminar will demonstrate to C-suite executives and professionals that diversity is good for business and is profitable.
(Approved for 1 Business Management and Strategy HRCI Credit)

Speakers:

Dr. Jan Dreacshlin, Expert on diversity leadership and Professor at Penn State Great Valley see bio
---
Speaker Biography
Janice L. Dreachslin, Ph.D. is Professor of Health Policy and Administration at the Penn State Great Valley School of Graduate Professional Studies in Malvern, Pennsylvania and Co-Professor-in-Charge of the MBA program. With over thirty years experience, Dr. Dreachslin has consulted with health care organizations in the United States, Canada, Great Britain, and Australia. She is the author of numerous publications and presentations in diversity leadership and maintains an active consulting practice in the field.
Dr. Dreachslin is author of the first academic book on strategic diversity management in healthcare, Diversity Leadership, published in June 1996 by the American College of Healthcare Executive's Health Administration Press. Dr. Dreachslin and her collaborators received the 1999 ACHE Health Management Research Award for their Survey of Diversity Practices in Pennsylvania Hospitals.
As chair of the Association of University Programs in Health Administration's (AUPHA) Diversity Forum (2000-2004), Dr. Dreachslin led an initiative to define domains and core competencies for diversity leadership in health services management nationwide. She served as an invited member of the Institute for Diversity in Health Care Management's benchmarking project advisory council. She was the lead investigator for a study of factors that affect career advancement for women and people of color in health services management, commissioned by the National Center for Healthcare Leadership (NCHL). Dr. Dreachslin is principal investigator for a Sodexo-funded NCHL diversity demonstration project. The project employs pre-post intervention assessment of system-wide diversity change initiatives and currently involves two major hospital systems.
Dr. Dreachslin was inducted into the NCHL Innovator's Circle in 2010 in recognition for her work in diversity leadership. She is lead author of Diversity and Cultural Competence in Health Care: A Systems Approach, published by Wiley in January 2013.
---