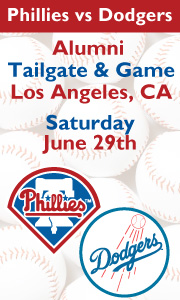 Take me out to a ball game in Los Angeles, CA! Come join us for an alumni tailgate and the Phillies vs Dodgers game on June 29, 2013. We want you, our alumni, to come and spend the day with fellow Penn Staters and the Abington Alumni Relations staff. Michael J's will provide the food and you provide the Penn State PRIDE!

Alumni Tailgate and Game: Phillies vs Dodgers
Tailgate: 4:30 p.m. - 6:30 p.m.

Location:  Elysian Park
                Section 1B
                835 Academy Rd.
                Los Angeles, CA 90012

Game begins: 7:10 p.m.

Location:  Dodgers Stadium
                1000 Elysian Park Ave
                 Los Angeles, CA 90012

Fee:  $25 per person, includes entrance into Dodgers Stadium and tailgate food and drinks, catered by Michael J's.