Speaker: Katie Stacks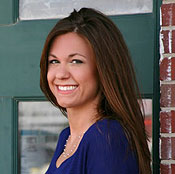 Since appearing on the MTV documentary No Easy Decision (on teens who chose abortion when confronted with an unexpected pregnancy), Katie Stack has used her story to connect with people of all ages and personal experiences.
Stack believes that the current pro-life versus pro-choice framework of the abortion debate is ineffective and that it doesn't effectively illustrate the realities of real women's experiences. She promotes a framework of reproductive justice that is as concerned with a woman's right to choose as it is with a woman's right to parent.