Building: Sutherland, Room: Sutherland Plaza
A Recent Report by the Institute for College Access and Success Shows Pennsylvania College Grads Rank 2nd in the Nation for Student Loan Debt. According to the report, students graduating from Pennsylvania colleges with a bachelor's degree in 2010-11 left campus with $29,959 on average in loans, a sum surpassed only by New Hampshire's $32,440 total. Seventy percent of graduates in Pennsylvania carried debt.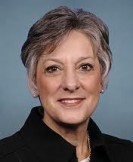 Congresswoman Schwartz is a strong advocate for expanding access to affordable higher education to ensure America's continued economic strength and competitiveness in a global economy. This year, Schwartz introduced legislation to ensure students and their parents have access to vital information regarding their student loan options.
The Know Before You Owe Act requires schools to counsel students on the financial aid options available to them, including less risky federal student loans. The bill also requires private lenders to adopt commonsense steps to protect student borrowers.
The Plaza is located on the west side of the Sutherland Building - #1 on the campus map.
Note: Press should park in the Sutherland Circle (Lot A on the campus map. Entrance off Woodland Road).
Contact:  Tali Ciazza, 202-225-6111