Building: Woodland, Room: 112
Due to inclement weather, our film screening of "Painted Bride" will have to be rescheduled for a later date. We apologize for the inconvenience.
---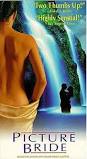 This heart-wrenching 1994 film is based on the oral histories of surviving picture brides and tells the story of early 20th-century immigrants who surmounted countless obstacles to lay the foundation in Hawaii for one of the most successful multi-ethnic societies in the world.
Riyo, a young Japanese woman,ventures to Hawaii in 1918 after a matchmaker pairs her with a plantation laborer. But Riyo's husband is 15 years older than his photograph, and she must perform backbreaking labor in the canefields.
Follow Riyo's empowering friendship with Kana as well as her coming-of-age in a volatile community filled with hardship, struggle and unexpected joy.
Moderated by Arcadia University film instructor Rob Buscher, whose grandmother was a picture bride.
Admission: $5