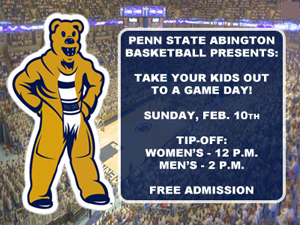 The Penn State Abington men's and women's basketball teams will combine to host the first-ever "Take Your Kid to a Game Day" on Sunday, February 10, at the Athletic Building Gymnasium.
Both teams will take on North Eastern Athletic Conference (NEAC) opponent Gallaudet, with the women tipping off at 12 p.m. and the men at 2 p.m.
Children of all ages are invited to attend the games, where they will have the opportunity to meet both teams and join them in their pre-game ceremony. There will also be giveaways and other fun activities provided by Athletics along with information regarding camps and clinics provided by Penn State Abington.
Admission to both games will be free of charge to everyone in attendance.
For more information, contact Deanna Bosley.