Abington College faculty organize occasional Teach-Ins on controversial topics that affect our students and the larger community.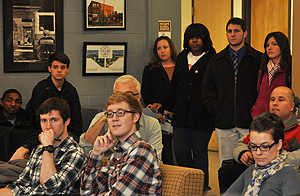 With the issue of gun violence in the news, we think it is a good time to educate ourselves about the issues behind the soundbites.
Teach-ins feature a panel of faculty members representing a spectrum of academic perspectives. By definition, they are unscripted conversations that include participation from both panelists and the audience.
Please join us!
Moderator: Ross Brinkert
Panelists:    
Salar Ghahramani (Constitutional law)

Michael Bernstein (Psychology of social rejection)

Judy Newman (Mental health issues)

Ron Zigler (Education for moral pluralism)
Faculty, students, staff, and all other members of the Abington College community are invited.
Woodland Commons (outside the library)