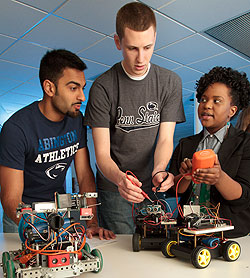 A program for rising high school seniors interested in Agriculture Science, Computer Science, Earth and Mineral Science, Engineering, Information, Sciences and Technology or other science majors.

Schedule
6:00 p.m. Campus tours begin; the last tour leaves at 6:30 p.m. 
6:30 p.m. - 7:15 p.m. Information Fair with faculty and staff.  
7:15 p.m. Formal presentations. Students and families will choose one of the three sessions below based on academic interest.
Engineering

Sciences and Biology

Computer Science and Information Sciences and Technology

Parking is in Lots G and F. Registration is at 6:00 p.m. outside on the Sutherland plaza (weather permitting).