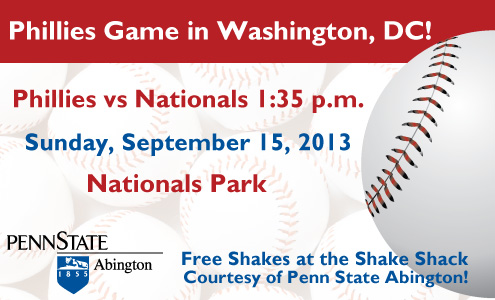 Sunday, September 15th at 1:35pm 
Nationals Park: 1500 South Capitol St. SE, Washington, DC 20003

$36.00 per person: includes (entrance to park and $15.00 food credit)
Please meet us at the Right Field Gate to collect your tickets into the Park. (Corner of 1st and N. Streets) on 1st Street in between Lot C and the Security Office. Look for us in our Penn State Gear! 
THE FUN DOES NOT STOP THERE!

Meet us at the Shake Snack in Nationals Park. FREE SHAKES ON PENN STATE! Look for those in Penn State gear!

Come out bring your family and be a part of the fun..We are so excited to see you there!

WE ARE... PENN STATE!