Building: Woodland, Room: 112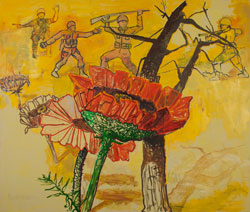 Professor Leslie Bostrom will give a lecture about her current series of work on display in the Woodland Commons Gallery.
"In the Monster Flower series, I cram nature and culture into the same pictures. Everything is culture, and nature is a human fantasy of pure otherness. OR, everything is nature, and culture is an elaborate construction through which human animals hope to elude mortality. I want to paint the most beautiful and provocative paintings I can."
Leslie Bostrom received her Bachelor of Arts degree, with Honors, at the University of Maine, Orono, studied at San Francisco Art Institute, and received her Master of Fine Arts in painting at Rhode Island School of Design. Bostrom is currently an Associate Professor of Art at Brown University in Providence, Rhode Island.