The Oriental Club of Philadelphia, an academic society founded in 1888, is one of the oldest continuously running organizations of its kind in the United States. In recent times, the OC has organized regular lectures, conferences, and symposia for scholars of Asian Studies in the Philadelphia area.
This year, we are expanding our mission beyond our own neighborhood by inviting scholars from throughout Pennsylvania, New Jersey, Delaware, and beyond to participate in our Second Annual Regional Symposium. All scholars, advanced graduate students, and library/museum professionals of Asian Studies (including East, South, Southeast, Central Asia, and the Near East) in the region are cordially invited to participate.  Register
Registration Deadline: Mar 10

Purpose
To assemble the Asian Studies community from throughout the tri-state region. We look forward to meeting one another socially as well as to the opportunity to briefly introduce one another to our research.
The symposium will consist of a series of brief "lightning lectures" of 5 minutes to 10 minutes each, with frequent breaks for dialogue and networking.
When registering as a presenter, please provide a title and 100-word abstract. We will attempt to include all presenters in the program, but approval is not guaranteed.

A summary of the proceedings will be published both on the OC website (www.TheOrientalClub.org) and in the program that will include abstracts of all presentations, as well as contact information for all attendees.
---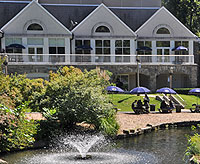 Location
Penn State Abington
1600 Woodland Rd
Abington, PA 19001