Join us for Convocation and New Student Day on Wednesday, August 20!  These events are the next steps to your Penn State Orientation. Make sure you attend!
New Student Day will kick off in the Athletic Building at 7:45 a.m. and will end at 2:00 p.m.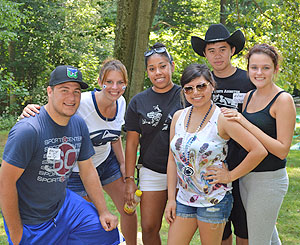 New Student Day is an event where incoming students have the opportunity to meet the ENTIRE class of 2018 and to learn more about the Penn State Abington experience.
The LEAP (Lares Entertainment & Programming Club) will host a Tailgate Party on the Athletic Field from 2:00PM-3:30PM with games, giveaways & fun.  All new students are welcome to attend.
International, Transfer and Out of Area Student RECEPTION
Join fellow students for a dessert reception at 1:30PM on Sutherland Plaza for international, transfer and those students who are moving to the Abington area to attend Penn State Abington.
The events for the day will include New Student Convocation, interactive sessions, and opportunities to meet faculty, staff and fellow students at the community barbecue.
---
Transportation and Parking
Parking will be available in the Athletic Building and Woodland parking lots.
Please follow this link to complete your Free Parking Permit registration before New Student Day. Once that is completed, you can pick up your Parking Pass in the Rydal Bldg on New Student Day.
See free transportation schedule for that date. Buses will be running from the Broad & Olney and Fox Chase area as well as College Station Apts. These buses will also be stopping at the Jenkintown and Rydal train stations. Shuttle buses are available from Abington areas indicated on schedule.
New Student Day is a day you will not want to miss so make plans to attend now! Please do not hesitate to contact Student Life at 215-881-7507 with any questions you may have. I look forward to seeing you on Wednesday, August 20!
Sincerely,

Gina D. Kaufman
Associate Director of Student Affairs