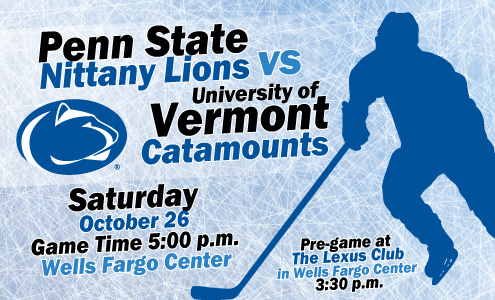 Join us at the Wells Fargo Center for Division I Ice Hockey and enjoy food and fun with your fellow alumni as we watch the Penn State Nittany Lions take on the Vermont Catamounts! 
Pregame tailgate:  3:30 p.m., Lexus Club inside the Wells Fargo Center
Puck drops:  5:00 p.m.

$44.00 per adult and $30.00 per child under 12:  All inclusive (tickets, seated near fellow Penn Staters, game day food, and beverages).
 A portion of the fees will benefit the respective group's scholarship fund. 

THE FUN DOES NOT STOP THERE! 

After the game you will have the opportunity to catch a bus to Field House Sports & Beer Hall to watch the Penn State vs Ohio State football game. Bus fee is $5.00 per person, upon registration.  Bus leaves at 8:00 p.m. corner of Broad St. and Pattison Ave.

Come out bring your family and be a part of the fun..We are so excited to see you there! 
Hosted by Penn State Abington and Lehigh Valley Alumni Relations/Development and Bucks, Philadelphia, Delaware,   and Southern New Jersey  County Alumni Association Chapters