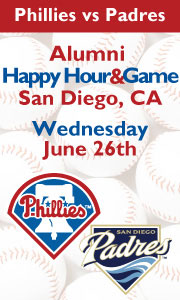 Take me out to a ball game in San Diego, CA! Come join us for an alumni happy hour and the Phillies vs Padres game on June 26, 2013! We want you, our alumni, to come and spend the day with fellow Penn Staters and the Abington Alumni Relations staff.
Basic Restaurant will provide us with the specials and you provide the Penn State PRIDE! Special will include $4 beers, $5 well drinks, and $5 wines!
Alumni Happy Hour and Game: Phillies vs Padres
Happy Hour: 5:30 p.m. - 7:00 p.m.
Location:  Basic Restaurant
                 410 10th Ave
                 San Diego, CA 92101
                 619-531-8869
Game begins: 7:10 p.m.
Location:  Padres Stadium
                100 Park Blvd,
                San Diego, CA 92101

Ticket Price: $16.50 per person, entrance to Padres Stadium.