Mr. Richard L. Jones, Jr.,  L.F.A.C.H.E.                   
Former CEO of Abington Memorial Hospital
Health care executive in residence at Penn State Abington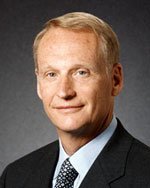 Richard L. Jones, Jr., earned a B.A. from Denison University in 1962 and an M.B.A. from The George Washington University in 1965.  He served as President and CEO of Abington Memorial Hospital (AMH) from 1998 until his retirement in 2010, having spent nearly 30 years there as an administrator.  While at Abington Memorial Hospital he received several distinguished awards, including the Abington Memorial Hospital Trustee Distinguished Service Award in 2008.
As a board member for several regional and national committees, including the Hospital and Health System Association of Pennsylvania and the Voluntary Hospitals of America, he has a background in developing and maintaining collaborative relationships, particularly in fundraising efforts and overall institutional strategic communication.  Dick led AMH to create Abington Health, a system of two acute care hospitals, three major outpatient centers, and a corporate physician entity comprising 300 primary care physicians, specialists, and medical educators.
He also currently serves as a Board member of Arcadia University and The Hill at Whitemarsh.