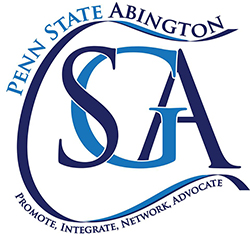 The Penn State Abington SGA is comprised of elected and appointed students. 
Goals:
advocate for all Penn State Abington students
provide guidance and financial support to campus clubs and organizations
create opportunities to build campus community and traditions
Location: The Lions Den, in the ground floor of the Lares Building.
It's also where you find other student organization leaders and a host of resources for campus clubs.
How to get involved:
Attend meetings Thursdays during Common Break in Room 8 Sutherland.
SGA Executive Board and Committee Chairs
Charlena Frank, President, cqf5226@psu.edu
Belquise Abdul-Hadi, Vice President, bka5089@psu.edu
Ketul Patel, Treasurer, kdp5210@psu.edu
Samuel Gonzalez, Secretary and Chief of Staff, svg5539@psu.edu
and
Elliot Copeland, Student Food Committee, eqc5280@psu.edu
Samuel Steiner, Parking and Transportation Committee, shs5278@psu.edu
William Connor, Lionpath/General Issues Committee, wjc5159@psu.edu
Sayonnoh Kofa and Christi Renfer, No Place For Hate (Joint Committee), Sfk5123@psu.edu & Cmr5819@psu.edu  
Jiten Patel, Event Planning Committee, jbp5130@psu.edu