A Certified ScrumMaster Certification®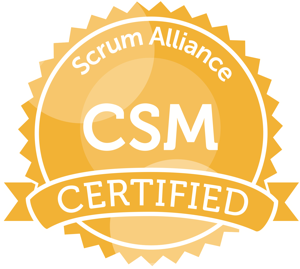 can give you the competitive edge in this high-velocity, changing business world where speed to market, ability to address current customer needs, and the need to rapidly change direction are key to success.

Are you a multi-skilled practitioner?
Do you want to increase the success rates for your organization?
Do you need to take your career to the next level?
Dates: TBD
What is Agile?
Agile methods are set of related, lightweight, frameworks, based on empirical methods. Instead of planning the entire effort upfront, we plan, design, and architect just enough to get started. Then, we continually and collaboratively learn as we go and use what we learn to adjust our plans, designs, and architectures.
The Agile Manifesto
Agile methods became popular starting in 2001 after the creation of the Agile Manifesto (www.agilemanifesto.org). The core values of the manifesto are:
Individuals and interactions over processes and tools
Working software over comprehensive documentation
Customer collaboration over contract negotiation
Responding to change over following a plan
Scrum and the Workshop
Scrum is the most popular of the agile frameworks. It is a simple set of principles and practices that help teams deliver in short cycles, enabling fast feedback, continual learning, and rapid change to maximize value based on the world as we understand it today. Scrum defines roles, ceremonies, and artifacts that have become the basis for most agile transformations. The Certified ScrumMaster™ Certification is the most well-established and respected certification in the agile community and the certifying agency is the Scrum Alliance.

This two day workshop will be delivered as fun, interactive, hands-on sessions.

After the session you will be registered w

ith the Scrum Alliance to take the certifying exam. There is no additional charge for the exam. It is open book and you can take it for up to 60 days after the class from any Internet connected device. After passing this exam you will be a Certified ScrumMaster(TM).

More importantly, you will gain an understanding that will jumpstart your adoption, or increased usage of, agile methods. You will gain a practical understanding of the roles, artifacts and ceremonies of Scrum via hands on exercises, discussion, and simulation.

You will see how Scrum exists in a larger organizational context, and how it is similar to and different from traditional waterfall projects. You will also learn about other influential Agile Frameworks and how they align so that you can apply what works in your environment.
 


Who should attend?
Anyone who is a:
Project Manager
Product Manager
Business Analyst
System Analyst
Developer
Programmer
Quality Assurance
Process Engineers