Instructional media services in 218 Sutherland supports classroom technology, and provides training on the use of that technology. IMS provides a wide variety of audio visual equipment, services and assistance to faculty, staff and student clubs and organizations on campus.
Operational Hours:
Monday to Thursday: 8am - 9pm.
Friday: 8am - 5pm.
CRESTRON INSTRUCTIONS
Using Podium Computer:    
Turn on the podium computer. Power button is on back right corner for Mac Minis.
Press PC to display your computer and turn on the projector.  From here, you can choose to use Windows or Mac, and sign on from there.
At end of class, shut down computer first, then press & hold the power button for a few seconds, which turns the Crestron system off. 
Using a laptop:
Connect your laptop to the podium with the provided VGA cable and then power it on. Press VGA to turn on the projector and display your laptop.  Hold the power button to turn off the system at the end of class.
Playing a DVD or Blu-Ray:
Turn on the Blu-ray player and load your disc.  Select "DVD" on the Crestron panel, which will turn on the projector. Menu, Play, Stop, FF, RW options are on the bottom row of Crestron, with volume knob to the right. Hold power button to turn off the Crestron system when you are finished.  
CONTACT CTL FOR HELP @ x7418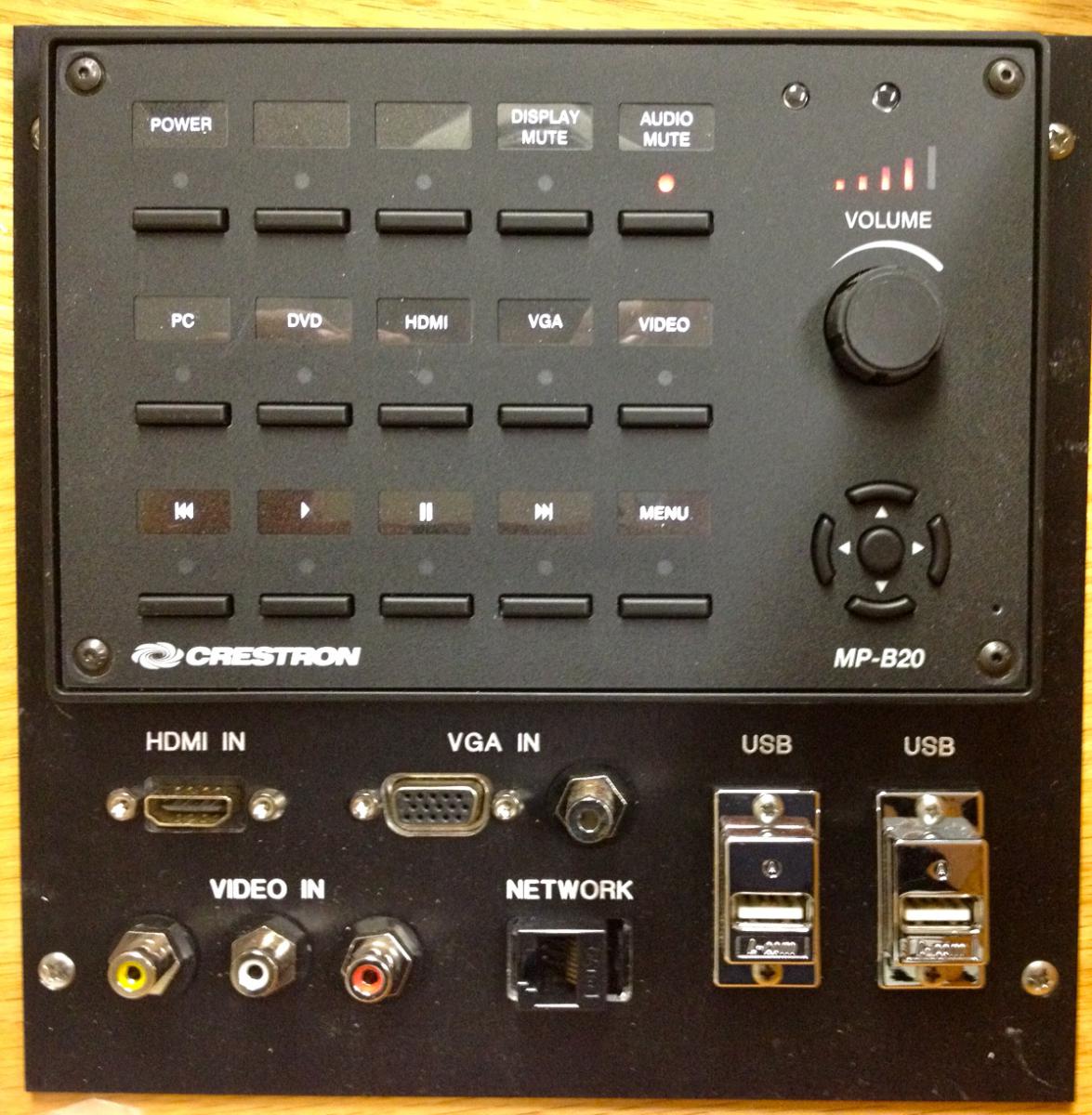 Tips:
If you don't want to project your computer display for the class, select "Display Mute"
There are 2 USB ports on the Crestron panel to use flash drives, powerpoint clickers, Mac superdrive to use discs.