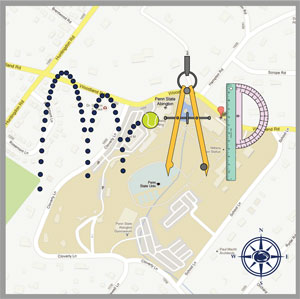 Mathematics Academic Prep (MAP) is a non-credit Penn State summer class that can help prepare you for "math-heavy" majors such as Engineering, Information Sciences Technology and Science.
This course covers topics commonly found in Algebra I, Algebra II and Trigonometry, and can prepare students for Calculus I.
This course is designed for newly admitted Penn State students. 
Network with future peers in a hands-on team based learning environment
Experience the first year experience - prior to the first year
Acclimate yourself to Penn State Abington's campus before the beginning of the fall semester
Taught by top-level faculty, this affordable option can help you develop good study habits, test taking and note taking skills.
See Frequently Asked Questions.
Learning Goals       
The students can be able to:
Manipulate and simplify algebraic and trigonometric expressions
Solve algebraic and trigonometric equations
Graph algebraic and trigonometric functions
Create and interpret mathematical models
In addition, they can learn how to use standard useful software (MS Word, Excel, Powerpoint; Logger Pro etc.) and boost study, collaborative and problem-solving skills.
Students interested in registering for this course are requested to contact Dr. Mikhail Kagan (mak411@psu.edu) for eligiblity. 
For information about course content, please contact Dr. Mikhail Kagan (mak411@psu.edu).