The Value to Your Bottom Line
Three Course Series--Please call for dates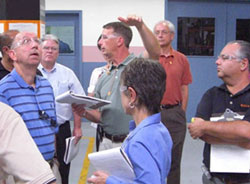 Sustainability focuses on improving social, economic, and environmental performance within companies. Integrating sustainability into your products and operations is important to compete in the new sustainability marketplace.
Companies with well-developed sustainability programs reduce financial and material costs, decrease environmental impacts, improve corporate image, and improve relationships with employees, customers and the local community.
Who should register for "Sustainable Products and Operations" courses?
Manufacturing Plant Management and Operators
Environmental Health and Safety Management
Facilities Maintenance
Marketing
Sales/Service
Engineers/Scientific/Technical
Research and Development
Sustainability Executives and Executive and Financial Officers