Spring 2015 Commencement is May 8, 2015 at 10am.
---
Grad Fair: Abington Campus Bookstore Graduation Fair, April 6 - 10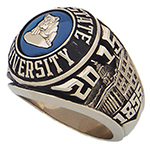 Class Rings: Jostens College Ring representative - Jostens will offer the rings at a discount of approx. 20%
Photography: Graduation portraits by Warren Keith Photography. The cost of the portrait package $54.95, tax included. It includes your time with the photographer, and a print package (1-8x10, 2-5x7, and 8-wallets). Choose either a picture inside in a studio setting, or outside by the Nittany Lion statue. Caps and gowns will be provided for the picture.
Visit or call the Bookstore for further information.
---
Commencement Regalia
Students participating in the academic procession and ceremony must wear a cap and gown. See regalia policy.
You will order/reserve your graduation outfits online at Jostens.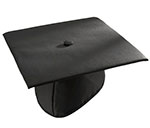 You will only order/reserve your regalia on the link, and will pay for it upon pick up at the store when we notify you that they are available to pick up.
The price of the complete bachelor outfit is $40.00 + 6% tax. For those who wish to "pre-order" your deadline to do so on the Jostens link is April 5, 2015.
Those that miss the weblink deadline, will be notified when our bulk "non preordered" outfits arrive.
The bulk order will be limited in sizes, mainly for those grads who got the OK to graduate late in the semester.
We strongly suggest you take advantage of the preorder link on the Jostens site to make sure you get the size you want.
---
Commencement Speaker: Hon. Madeleine Dean, State Representative
State Representative Madeleine Dean was elected in 2012 to represent Pennsylvania's 153rd Legislative District. She brings with her nearly three decades of experience as a lawyer, writer and teacher.
Madeleine served 11 years as an assistant professor of English at LaSalle University, in Philadelphia.  She is also a writer and contributor to the Philadelphia Daily News and other publications. Prior to teaching, Madeleine practiced law in Philadelphia, served as in-house counsel to Cunnane Bicycle Company, Inc., and later opened a small three-woman general law practice in Glenside.
Madeleine earned her undergraduate degree at La Salle University, Philadelphia, also attending classes at Montgomery County Community College.  She earned her law degree at Widener University School of Law, in Wilmington, Delaware, and attended the University of Pennsylvania, Fels Institute of Government.
As state representative she sits on several important committees, including Appropriations, Judiciary, Ethics, Human Services, and Finance, of which she is Vice-Chair.   Before becoming a member of the General Assembly Madeleine served as Abington Township Commissioner, Ward 7.
She is a lifelong parishioner of St. Luke the Evangelist Church in Glenside, and has served as a board member for the St. Vincent de Paul Society.  Madeleine and her husband, PJ Cunnane, live in Jenkintown, Abington Township and have three grown sons– Patrick, Harry and Alex– and one granddaughter, Aubrey.
---
Reception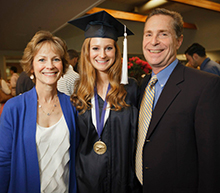 Reception in Lares Building following the ceremony.  All graduates, guests, faculty and staff are invited.
T-Shirts/Flowers
Will be available for purchase at Commencement.
Students and families will also be able to pre-order flowers here.