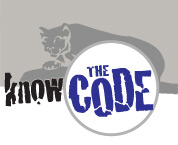 Penn State Abington accepts its obligation to provide for its students an atmosphere that protects and promotes its educational mission and which guarantees its orderly and effective operation.
Therefore, certain standards of conduct, practices, and rules and regulations have been established and are expected to be followed.
These guidelines are found in the Student Guide to University Policies and Rules or the Penn State Abington Student Handbook.
For more information on student policies and the Code of Conduct:
Student Conduct
106 Sutherland Building