Young engineers say the Penn State Abington engineering degree is the key to high-paying, satisfying jobs with potential for career advancement.
Zach Stehouwer, a May 2016 graduate and systems engineer at JBT Corp., said the degree prepared him to be an engineer. 
"I learned robotics and valuable mechanical engineering skills," he said. "I graduated with quite a bit of experience, more than I ever expected."
Kim Kishbaugh from JBT hired Zach.
"I am ecstatic about the engineering program. The perfect candidate didn't exist prior to this program," she said. "Students leave this program knowing a wide variety of disciplines. It makes you adaptable and flexible."
"You can work in any industry. The choice is yours." — Kim Kishbaugh, JBT Corp.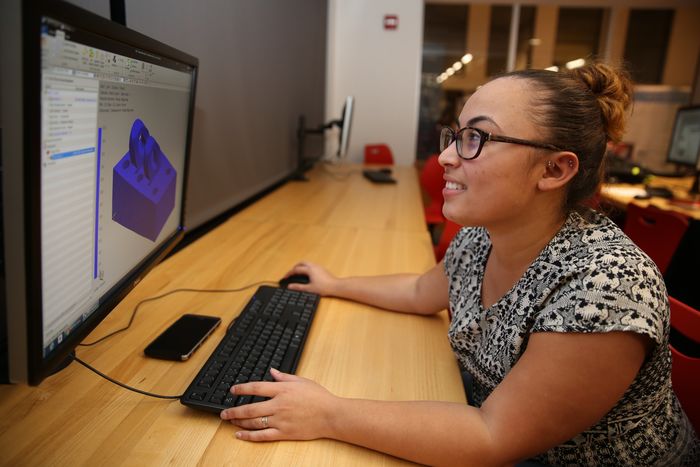 Bacher of engineering student
Image: Penn State
The coursework provides practical experience in several disciplines including design as well as electrical, mechanical, and computer engineering. Industries are rethinking the skills they want engineers to develop and now want special combinations of skills, which the MDE option fulfills. Jablokow manages the general engineering program with multidisciplinary engineering design (MDE) option, through which students earn a degree from the top-ranked Penn State College of Engineering while living in the Philadelphia area.
"It can be product design, a thing, a system such as a car or a part of a car, or an aircraft carrier. We want students to be able to say 'I can build all of the parts,' not just some."  — Kathryn Jablokow, associate professor of mechanical engineering and engineering design
Students in MDE spend the first two years at Abington building a strong engineering and robotics foundation. The design thread sews the last four semesters together at the state of the art facility in Great Valley, Chester County. A capstone design project encompasses the fourth year along with a single semester technology-based entrepreneurship course.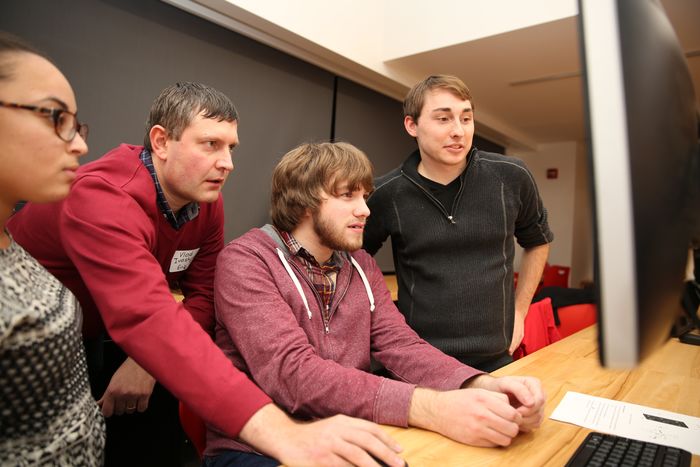 The multidisciplinary engineering students work primarily on team project during their final semester.
Image: Michael McDade
Abington student Cara Fiala and her classmates solve real-world challenges in an engineering suite outfitted with advanced software and equipment. They are the first class to use the University's regional engineering suite, which opened in 2014. It includes circuits and robotics labs as well as a fabrication and design facility. Laser engravers, 3-D printers, machining centers, and other shop tools are available. 
Fiala said the College of Engineering's rigorous requirements and location near her home were key factors in enrolling in the program. 
"It couldn't be any better," Fiala, who plans to work in the defense industry, said. "The faculty are amazing and so are the labs."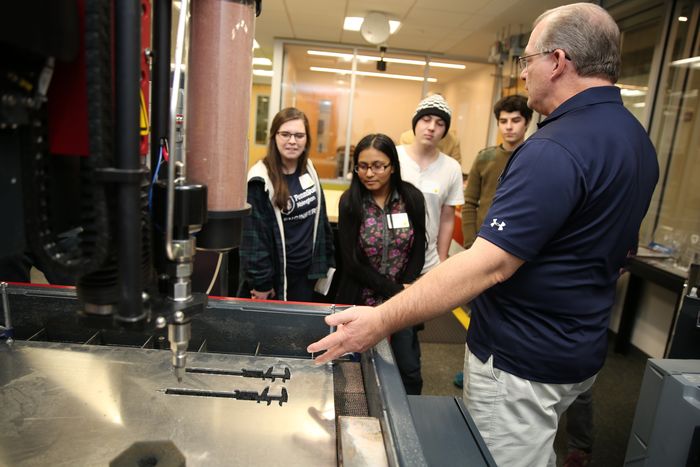 The engineering workshop includes top-notch tools for students.
Image: Michael McDade
Robert Avanzato, associate professor of engineering at Abington, coordinates the required MDE summer internships.
"The goal is 300 hours of industry experience monitored and evaluated by faculty to make sure it's meaningful for the engineering degree," he said, noting that the Philadelphia Gas Works provided internships during the last two summers. 
The internships send students across the country, around the world, or they can stay close to home. It's a competitive process, but the college provides support such as mock interviews so students can hone their skills.  
"The faculty are already integrated into the engineering community, which improves prospects for internships and permanent positions." — Kathryn Jablokow, associate professor of Mechanical Engineering and Engineering Design
About Multidisciplinary Engineering Option (MDE)
The MDE option of the Penn State general engineering degree is delivered by a consortium composed of Penn State Abington, Penn State Brandywine, and Penn State Great Valley. 
The $2.5 million engineering facility where students take their final two years of coursework is located at Great Valley, about 30 miles from Abington. Shuttle service from Abington to Great Valley is available.
The general engineering program is accredited by ABET, the Accreditation Board for Engineering and Technology.